Amari Watergate Bangkok
Bangkok, Petchburi Road, Thailand
T: +66 (0) 2653 9000+66 2 797 0000
W: www.amari.com
_______________________________________________________________________________________________________
847 Petchburi Road, Pratunam, Bangkok 10400 – Thailand
_______________________________________________________________________________________________________
Located in the ever-vibrant Pratunam neighbourhood known for its bustling shopping bazaars and lifestyle malls including CentralWorld, Gaysorn Plaza and Siam Paragon – The Amari Watergate puts you at the very heart of Thailand's capital. Start your mornings at the live cooking stations of the Amaya Food Gallery, take memorable pictures beneath our skyscrapers on the outdoor garden terrace, revitalise your senses at the Breeze Spa, or simply sit back and enjoy beverages & pastries at the Lobby Lounge. Whether it be for business, pleasure, family or romance this trendy property allows guests to feel the excitement of the city at their doorstep
KEY FEATURES:
• Great Location
• Amaya Food Gallery
• Breeze Spa
• Executive Lounge
• Outdoor Swimming Pool & Jacuzzi
• Free Wi-Fi
• Conference & Banqueting Facilities
ROOMS
• Deluxe Rooms
• Grand Deluxe Rooms
• Executive Club Rooms
• Corner Suites
• Executive Suites
• Presidential Suite
*Connecting & Disability Rooms Available on Request*
Individual Room Features & Amenities

 
Deluxe Room

ROOM FEATURES:

Overview: "An ideal living space for business or leisure travellers, the Deluxe Rooms overlook a dynamic city view, garden view or pool view. "
• 40 sqm. (Max Occupancy: 3) • Air-conditioned • This room is non-smoking  • Living/sitting area • Windows *Connecting & Disability Rooms Available on Request*
In-Room Facilities
40 sqm.
40-inch LCD TV
work desk
free Wi-Fi
King Bed
Twin Bed
City View
Garden View
Pool View
Individual climate control
Tea and coffee making facilities
Mini bar
Safety box
Smoke alarms
Emergency lighting
220V electrical sockets
Ironing facilities
IDD Call
Satellite/cable channels
DVD player
Marble bathroom
Shower and separate bathtub
Double vanity
Hair-dryer
Shaver point
Shaving mirror
Bathrobe and slippers
Complimentary bottled water
Daily housekeeping service
24hr in-room dining
24-hour Reception
24hr in-room dining
Grand Deluxe Room

ROOM FEATURES:

Overview: " While looking out to a picturesque city view, pool view, or garden view from the higher floor."
• 40sqm (Max Occupancy: 3) •King or twin Bed • Air-conditioned • This room is non-smoking  • Living/sitting area • Windows *Connecting & Disability Rooms Available on Request*

In-Room Facilities
40 sqm.
40-inch LCD TV
work desk
free Wi-Fi
King Bed
Twin Bed
City View
Garden View
Pool View
Individual climate control
Tea and coffee making facilities
Mini bar
Safety box
Smoke alarms
Emergency lighting
220V electrical sockets
Ironing facilities
IDD Call
Satellite/cable channels
DVD player
Marble bathroom
Shower and separate bathtub
Double vanity
Hair-dryer
Shaver point
Shaving mirror
Bathrobe and slippers
Complimentary bottled water
Daily housekeeping service
24hr in-room dining
24-hour Reception
24hr in-room dining
Executive Club Room
ROOM FEATURES:

Overview: "Occupying the top four Executive Floors, the Executive Club rooms feature a separate reception area where you will experience an even greater level of personalized service."
• Executive Lounge Access (Buffet breakfast from 06:00 to 10:30 daily, Hors d'oeuvres and cocktails from 17:00 to 19:00 daily, Drinks and appetisers throughout the day) • 40sqm (Max Occupancy: 3) • Air-conditioned • This room is non-smoking • Living/sitting area • Windows     • Selection of international newspapers daily • Flat screen TVs • Panoramic city views *Connecting & Disability Rooms Available on Request*
In-Room Facilities
40 sqm.
Executive Lounge access
40-inch LCD TV and DVD player
free Wi-Fi
King Bed
Twin Bed
High floor
Individual climate contro
Tea and coffee making facilities
Work desk
Mini bar
Safety box
Smoke alarms
Emergency lighting
220V electrical sockets
Ironing facilities
IDD Call
Satellite/cable channels
DVD player
Marble bathroom
Shower and separate bathtub
Double vanity
Hair-dryer
Shaver point
Shaving mirror
Bathrobe and slippers
Complimentary bottled water
Daily housekeeping service
24-hour Reception
24hr in-room dining
Corner Suite

ROOM FEATURES:

Overview: "Reserve yourself a first-class seat to witness the ever-changing skyline of Bangkok. The Corner Suites offer uninterrupted city panoramas from two different directions."
• 74 sqm. • Open-plan living room • Dining area
• Air-conditioned • This room is non-smoking • Connecting rooms are available (for some rooms) • Living/sitting area • Windows                         • Newspaper delivered to room on request *Connecting & Disability Rooms Available on Request*
In-Room Facilities
74 sqm.
Maximum Adults : 3 adults
King bed
High floor
Open-plan living room with sofa
Individual climate control
Tea and coffee making facilities
Work desk
Mini bar
Safety box
Smoke alarms
Emergency lighting
220V electrical sockets
Ironing facilities
IDD Call
Two 40-inch LCD TVs
Satellite/cable channels
DVD player
Marble bathroom
Shower and separate bathtub
Double vanity
Hair-dryer
Shaver point
Shaving mirror
Bathrobe and slippers
Guest bathroom
Complimentary bottled water
Daily housekeeping service
24-hour Reception
24hr in-room dining
Executive Suite
ROOM FEATURES:

Overview: "Steps from your bedroom, your spacious living room is brightly lit, with panoramic windows that overlook spectacular city views."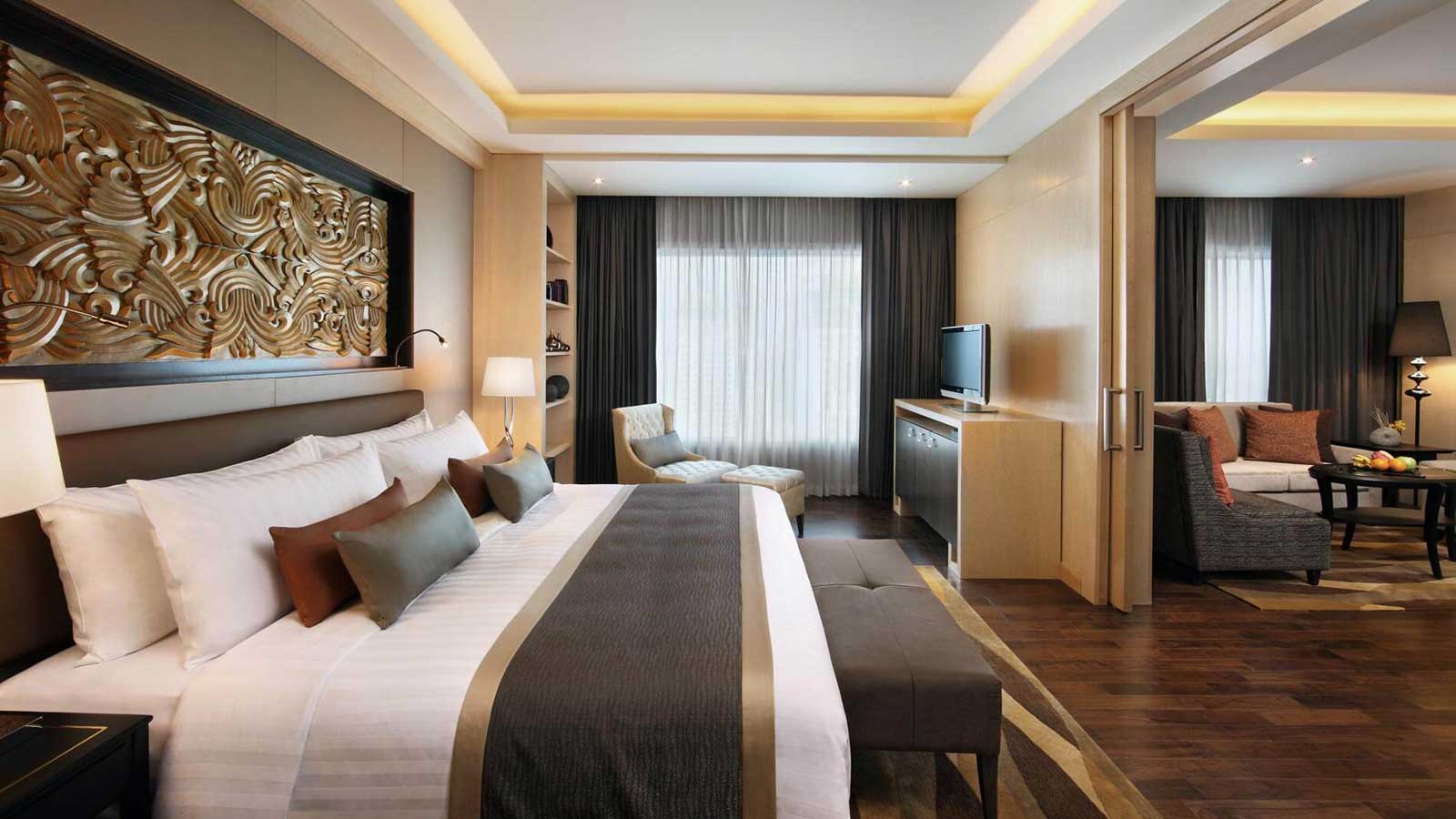 • 78sqm • Separate Living/Sitting area • Dining area • Executive Lounge Access (6 am – midnight: Complimentary coffee, tea, non-alcoholic beverages, light snacks & more) • Air-conditioned • This room is non-smoking • Connecting rooms are available (for some rooms) • Living/sitting area • Windows • Evening turndown service • Newspaper delivered to room on request *Connecting & Disability Rooms Available on Request*
In-Room Facilities
78sqm
1 King Bed
Coffee Maker / Tea service
Complimentary bottled water
Complimentary High Speed Wifi
Hair Dryer
Iron and ironing board
Mini-Bar / Refrigerator
Work Desk & Ergonomic chair
24hr Room Service
Panoramic city view
whirlpool
bathtub,
Executive Lounge access
High floor
Living room
Individual climate control
Work desk
Safety box
Smoke alarms
Emergency lighting
220V electrical sockets
Two 40-inch LCD TVs
Stereo system
Satellite/cable channels
DVD player
Spacious spa bathroom
Whirlpool bathtub and walk-in shower
Double vanity
Shaver point
Shaving mirror
Bathrobe and slippers
Daily housekeeping service
24hr in-room dining
24-hour Reception
Presidential Suite
ROOM FEATURES:

Overview: "City centre luxury at the pinnacle of Amari Watergate's luxury accommodation offerings, the Presidential Suite is your own private luxury enclave perched high above the glittering city streets."
•112 sqm. •Spacious bedroom  •Whirlpool tub  •Panoramic city view •Executive Lounge access (Buffet breakfast from 06:00 to 10:30 daily, Hors d'oeuvres and cocktails from 17:00 to 19:00 daily, Drinks and appetisers throughout the day) • Air-conditioned • Living/sitting area • Windows *Connecting & Disability Rooms Available on Request*
In-Room Facilities
112 sqm.
2 adults
Spacious bedroom
whirlpool tub
Executive Lounge access
Panoramic city view
King bed
High floor
Living room
Dressing room
Individual climate contro
Tea and coffee making facilities
Work desk
Mini bar
Safety box
Smoke alarms
Emergency lighting
220V electrical sockets
Ironing facilities
Free Wi-Fi
IDD Call
Two 40-inch LCD TVs
Stereo system
Satellite/cable channels
DVD player
Spacious spa bathroom
Whirlpool tub and walk-in shower
Double vanity
Hair-dryer
Shaver point
Shaving mirror
Bathrobe and slippers
Complimentary bottled water
Daily housekeeping service
24-hour Reception
24hr in-room dining
Show Less
ROOM FEATURES & AMENITIES
City, Garden or Pool Views, Air Conditioning, Marble Bathrooms, Bathtubs, Separate Shower Cubicles, Double Vanity Sinks, Shaver Points & Mirrors, Hair Dryer, Bathrobes & Slippers, 24hr In-room Dining, Complimentary Bottled Water, Tea/Coffee making facilities, Work Desks, Mini Bar, Digital Safes, Free Wi-Fi, 40-inch LCD TV's, Satellite/Cable Channels, Iron & Ironing Board, IDD Telephone (with voicemail), Daily Housekeeping Service
RESTAURANTS & BARS
• *Amaya Food Gallery (Signature Dining, Live Cooking Stations)
• Cascade (Contemporary Café)
• Pool Bar (Snacks & Beverages)
•  24hr in-room dining


More Info on Restaurants & Bars
Amaya Food Gallery
Overview: "Showcasing a modern interpretation of an energetic food market with live cooking stations, we offer an array of Asian and international cuisine inspired by local flavours for you to connect, explore and be inspired."
• Journey of the senses • Awaken your palate • Invigorate your day • Appetising night out • Happy little tummies  • Noteworthy gatherings

 
Dining Facilities
1Full Restaurant Menu
Dress Code: Smart Casual
Opening hours: 12:00 to 22:30
Breakfast: 06:00 to 10:30
Lunch: 12:00 to 14:30
Dinner: 18:00 to 22:30
Cascade
Overview: "Take a rest amongst the contemporary setting of our cafe. Enjoy smooth tunes in a laid back street café atmosphere and watch the world go by with your favourite beverage in hand."
• Relax and Chat  • Snack upon a variety of sumptuous offerings – including baked goods, deli items, and other delicious appetisers.
Dining Facilities
Opening hours: 06:30 to 01:00
Dress code: Smart casual
Location: Lobby level of Amari Watergate Bangkok
BOOK NOW
Pool Bar
Overview: "A Splash of Colours by the Pool."
• Stop by the pool bar for chilled drinks, juices, smoothies and snacks or enjoy our evening cocktails.
Dining Facilities
Opening hours: 09:00 to 22:00
Happy Hour: 17:30 to 19:00
Location: 8th floor of Amari Watergate Bangkok
Dress code: Casual
Show Less
COMFORT & CONVENIENCE
24-hour Reception, Porter & Concierge service, Foreign Exchange, Laundry & Valet services, Limousine Service, Shopping Arcade, Tour Desk (with sightseeing service), Postal Services, Babysitter (on request), Executive Lounge, Smoking Floors, Separate Group Check-in/check-out Lounge, Free Wi-Fi access (throughout hotel), Onsite Parking. Weddings, Occassions & Event Planning
ACTIVITIES & ENTERTAINMENT
Swimming Pool (with Jacuzzi & Sun deck), Children's Pool, Fit Centre (Squash Courts, Gym, Cardiovascular Room, Saunas, Steam Rooms, Aerobics & Work-out Studio, Jacuzzi), Breeze Spa, Breeze Salon, Recreation & Relaxation Areas, Easy Access to CentralWorld, Gaysorn Plaza & Siam Paragon and Pratunam Markets.
BUSINESS
Full-Service Business Center, Executive Lounge, Extensive Meetings / Conference / Banqueting /Wedding / Event Venue Facilities & Spaces (Ballrooms, Boardrooms, Spatial Areas, Dedicated Teamof Planners, Latest Audio/Visual Facilities, Video Conferencing, Secretarial Services, Translation
Services).
NEARBY
BTS Ratchathewi Station, Makkasan Airport Rail Link Station, Pratunam Market (35m), Platinum Fashion Mall (90m), CentralWorld (500m), Erawan Shrine (750m), Siam Paragon (1.5km)
Hotel Facilities
5 Star
24hr Room Service
Disability Access
Adjoining Rooms
Baby Sitting (on request)
Meetings & Conferences
Banquets & Events
Car Rental Desk
Limousine Service
Restaurants
Bars
Health & Fitness
Luxury Spa
Rooftop Bar
In-Room Spa Baths
Laundry Service
Luxury Suites 
Facility Key For The Hotel

Title
Open-plan living room with sofaWifi
Is this your business?
Claim listing is the best way to manage and protect your business
Claim it now!